The best thing about Seoul sightseeing is that most landmarks are just a hop, skip and a jump away from each other. Get to know Seoul's transportation system, and you'll be Snapchatting from places like Bongeunsa and Bukchon Hanok Village on the same day!
AGODA EXTRA: The number 4 in Korean is the same character as the word for d***h, so you'll often see elevators with floors 1, 2, 3 and F. If you don't suffer from tetraphobia, though, you can score some pretty sweet deals on hotel rooms and properties containing multiple fours in their addresses!
1. Fall in love while viewing Seoul from a revolving restaurant at N SEOUL TOWER
Wrap yourself in a 360-degree panoramic view of Seoul from one of two observation decks in N Seoul Tower. Korea's first integrated transmission tower was built in 1969 near Mount Namsan, or Nam Mountain. Now, the tower sits inside Namsan Park and serves as an educational center and romantic getaway with one heckuva view! The tower's top story hosts a revolving restaurant, n. Grill, that provides one of the most picturesque dining spots in the city.
Lovers can profess their love on the second floor Roof Terrace by attaching a padlock to the Locks of Love Seoul railing. Likewise, single travelers can throw a coin into the Wishing Pond in hopes of finding eternal love. The coins from the pond are collected regularly and donated to help develop schools throughout Asia. Walk through the tower's ground floors and shopping centers, or arrive at the observation deck via Namsan Cable Car. A digital audio tour provides a fun way to admire some of the city's most prominent landmarks from above, and kids love the nearby Teddy Bear Museum and Picnic Package Program, available for groups of 20 or more children, age 18 and younger.
Check In to Hotel The Artist Dongdaemun, Step Out to Namsan Cable Car
Discover more hotels and apartments near N Seoul Tower
2. Sip tea in a traditional Korean home at BUKCHON HANOK VILLAGE
Built for nobility more than 600 years ago, Bukchon Hanok Village is one of the few places in the world that offers tours of hanok, or traditional Korean houses. With more than 600 houses to explore, the village takes about three hours to cover on foot. Some homes in Bukchon, which means "northern village," now serve as educational centers and tea houses. Others have been turned into guest houses. Bukchon Hanok Village is located between Cheonggyecheon Stream and Jongno and features attractions like Bukchon Culture Center, Gahoe Museum and Bukchon Museum Old Fragrance.
Check In to Hotel Pop Jongno, Step Out to Bukchon Hanok Village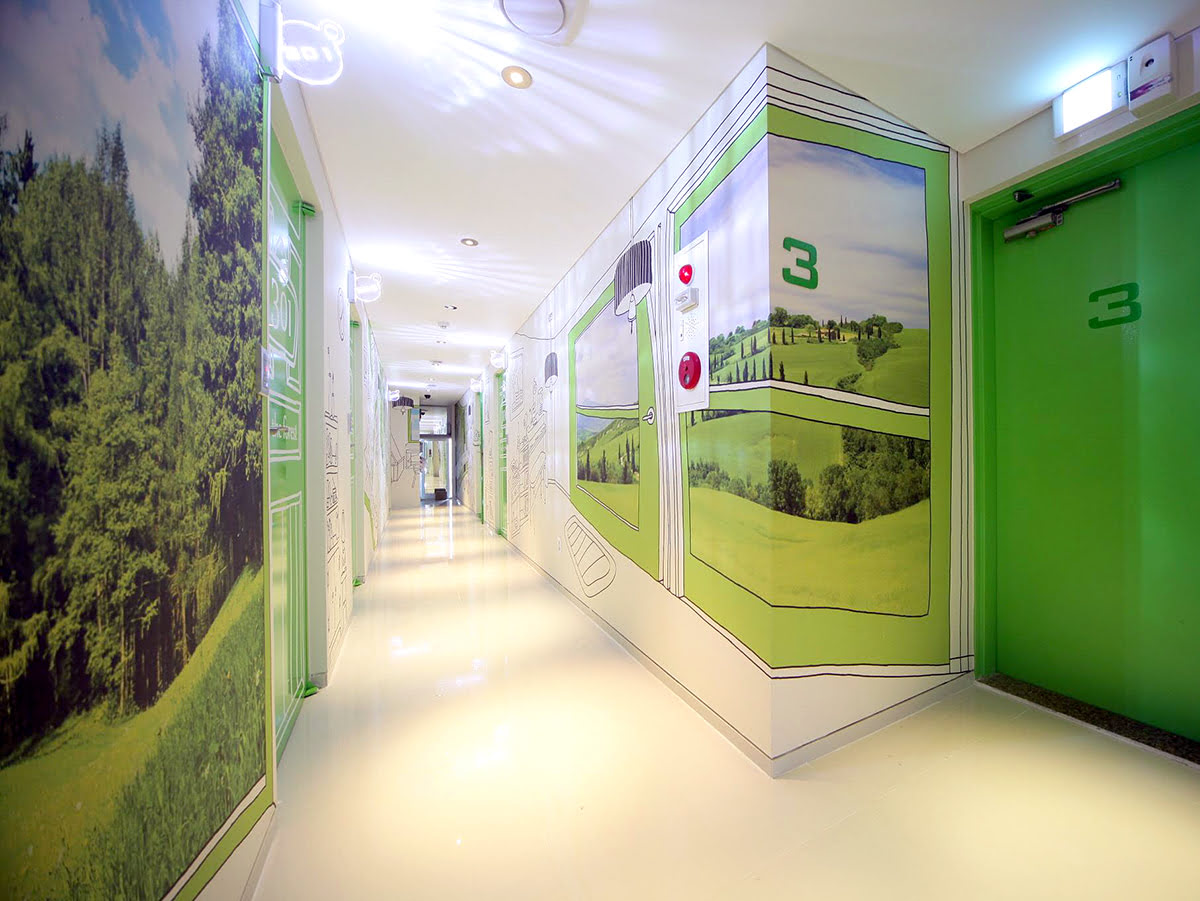 Discover more guest houses and hostels in Jongno
3. Admire an iconic religious symbol, and live like a monk for a few days at BONGEUNSA TEMPLE
Founded in the year 794 and reconstructed in 1498, Bongeunsa has experienced its fair share of ups and downs. The temple served as the main site for Korean Zen Buddhism until 1936 and was gutted by fire in 1939. Remaining parts of the temple grounds were toppled during the Korean War. Fortunately, much of the premises has been restored today and is located in Gangnam.
The biggest highlight of Bongeunsa is a 91-foot-tall statue of Maitreya, the future Buddha. Sightseers also enjoy touring the library, which contains Flower Garland Sutra woodblock carvings and sacred Buddhist scriptures. Participate in a temple stay program, and lead the life of a monk for a few hours, or opt for a simple tour that includes watching a percussion ceremony, making lanterns and chatting with monks during a tea ceremony.
Check In to Seoul Forest Stay, Step Out to Bongeunsa
Discover more apartments and guest houses in Gangnam
4. Ogle at the first National Treasure of South Korea at HEUNGINJIMUN GATE (DONGDAEMUN GATE)
Heunginjimun Gate is considered one of South Korea's most coveted landmarks, having earned the country's first distinction as a National Treasure. The gate's architecture alone is a show-stopper, but the structure also serves as the entryway to the Dongdaemun District. For this reason, the gate often is called Dongdaemun Gate. It is the oldest main gate of four main gates and four smaller gates remaining from the Seoul Fortress Wall, and it is the only gate that was built with an additional outer wall, or Ongseong.
Start at the Seoul City Wall Trail to see the legendary entrance, and find Dongdaemun History & Culture Park and Dongdaemun Castle Park along the way. Inside both green spaces, learn more about the gate and Dongaemun District at Seoul City Wall Museum and Dongdaemun Design Plaza.
Check In to E7 Place Dongdaemun, Step Out to Dongdaemun History & Culture Park
Discover more guest houses and motels in Dongdaemun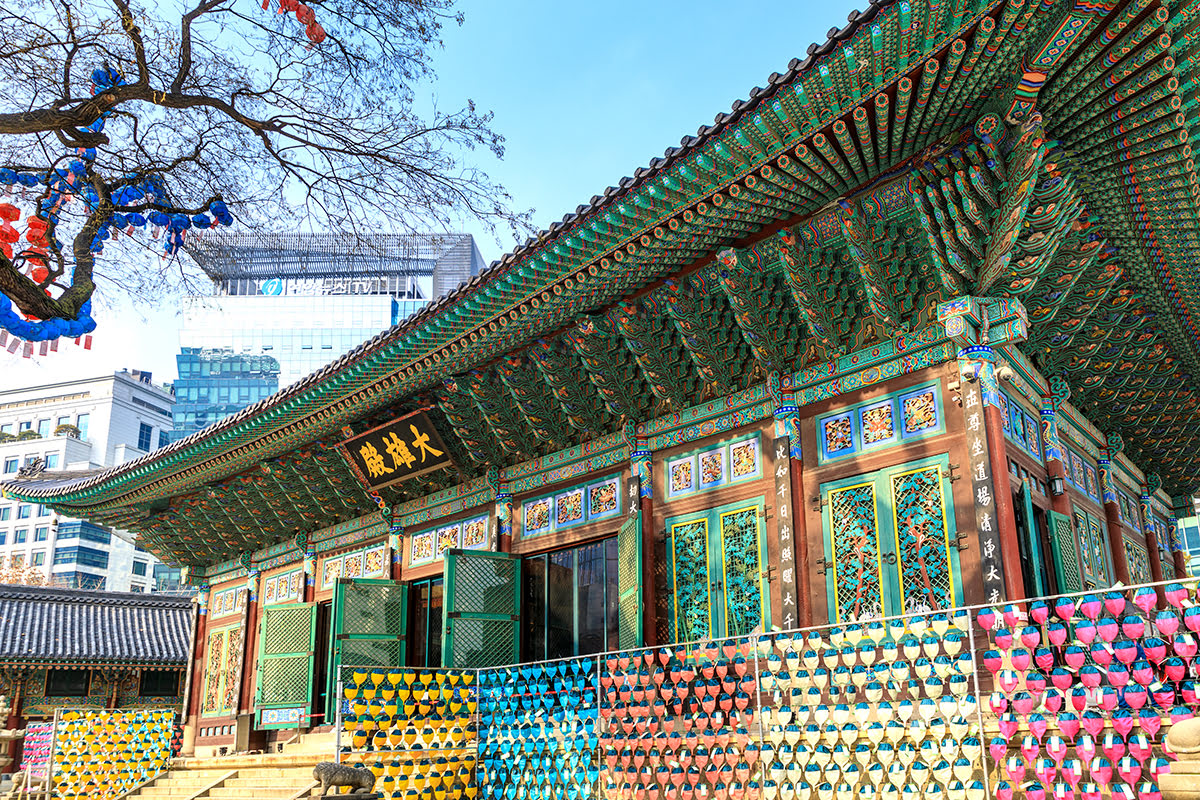 5. Take part in Buddhist meditation, or have tea with a monk at JOGYESA TEMPLE
Reserve a spot to experience Buddhist culture firsthand at Jogyesa. One of Seoul's newest historic landmarks, the temple was founded in 1920 and serves as the main temple for the Jogye Order in Korean Buddhism. The peaceful grounds are located in the heart of Seoul's historic district near Gyeongbokbung Palace and Changdeokgung Palace.
Visitors are invited to join a one- or two-night temple stay to learn Zen meditation and traditional temple etiquette, as well as lotus flower and salt mandala art. Tourists are welcome to soak up the lull of the grounds without signing up for a temple stay. Passersby can admire a 10-story pagoda and two ancient trees, the White Pine and Chinese Scholar, or they can chat with practicing monks during tea time. Drum and bell rituals also are open to the public and take place every day at dusk and dawn.
Check In to The Left Duplex Seoul Two, Step Out to Jogyesa Temple
Discover more guest houses and hotels near Gyeongbokgung Palace