The film-maker Nijla Mu'min's debut movie was based on her upbringing as a black Muslim girl in Oakland, California. Although Jinn was inspired by her life, she had to go to Los Angeles, 350 miles south of her hometown, to shoot it.
Mu'min said there wasn't enough industry support to make filming in Oakland financially viable. But now that's changing.
The northern California city is having its Hollywood moment this month with the release of two acclaimed films made by Oaklanders and set in their hometown. Sorry to Bother You, the debut film of the musician Boots Riley, offers a satirical anti-capitalist portrait of labor exploitation, protest movements and American racism. Blindspotting stars the locals Daveed Diggs and Rafael Casal, who co-wrote the dark comedy about police violence and gentrification.
Following the extraordinary success of Black Panther, directed by the Oakland native Ryan Coogler and partially set in his hometown, the city is attracting global attention, seen as a complex cultural hub where art, activism and inequality intersect.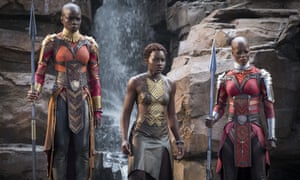 "A lot of people have been making films in the Bay Area for a long time, but lacked the exposure or the resources to really get this kind of national and international attention," said Mu'min, who debuted her film at the SXSW festival this year and plans to set her next project in Oakland.
"Oakland is having a film renaissance," said Matthew Riutta, a local film-maker who worked as the location manager for Fruitvale Station, Coogler's debut film, shot in Oakland and based on the police killing of Oscar Grant. "I always thought that Oakland was just this goldmine … The whole rest of the world is realizing that now."
The spotlight can be a double-edged sword given the city's severe housing crisis, spurred in part by the influx of young professionals and artists, the astronomical rents in neighboring San Francisco and the region's booming tech industry. Black families are facing displacement at alarming rates, a subject both feature films showcase.
At the same time, some say the mainstream recognition and industry support of homegrown talent, particularly black film-makers, is long overdue. Oakland, home to a "Harlem of the West" music scene in the 1950s and later the birthplace of the Black Panther party, has suffered through decades of racist policies that have torn apart artist and activist communities.
Considered one of the most diverse cities in the US, Oakland is home to guerilla film-makers and projects featuring populations often excluded in Hollywood narratives, said Mu'min, who made her first short film in Oakland in 2006.
"It's normal for them to tell a story that is unconventional and not like any other story you've seen," she said, adding that local creators were "just trying to hold on and preserve the story of this city through these films".
A decade ago, the Wayans brothers, the actors behind the Scary Movie franchise, had proposed building an Oakland movie studio, but the efforts fell apart. Still, producers have increasingly shot in Oakland, which experienced a 38% increase in filming days in 2017, the busiest of recent years, according to city data.
"We've got everything from the grit to the beauty," said Jim MacIlvaine of the Oakland film office, noting that film-makers were drawn to the city's architecture and old Victorian homes, the picturesque redwood trees and lake, and the appearance of urban "blight".
Heather MacLean, an Oaklander who has long worked in the industry and was the location manager for Sorry to Bother You, said it was refreshing that film-makers were no longer coming to the city for a "bombed-out murder town" look, but were instead drawn to the the Town, as local residents call it, for its "art and resistance and political activism".
"It's written for Oakland. They bring it here. They shoot it here. It's a love affair," said MacLean, who is working on a Netflix feature film scheduled to shoot in the city soon. Following the #OscarsSoWhite controversy, people of color were getting more opportunities and that translated to more work in Oakland, she added.
"In a more established city, there are more rigid traditions, protocols and pecking orders," added Lori Fogarty, director of the Oakland Museum of California. "In Oakland, people can break the boundaries."
Oaklanders embrace films when the shooting takes over neighborhoods – much more so than San Francisco, where people complain and are less interested in the projects, said Ryan Wylie, location manager for Blindspotting. "In Oakland, the arts still have a lot of value."
Both new features capture striking contradictions of Oakland as it rapidly gentrifies. Blindspotting, directed by Carlos López Estrada, follows two Oakland friends, one white and one black, navigating a changing city where the neighborhood corner store now sells $10 kale drinks and residents of shiny new developments sandwiched between old houses host parties with fancy appetizers and only three black guests.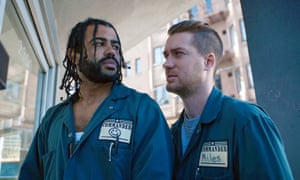 Sorry to Bother You, Riley's ambitious sci-fi comedy, chronicles miserable telemarketers fighting to unionize a call center while executives in an upstairs office make millions off of a new dystopian form of exploitation.
The films have a kind of universal appeal in Trump's America, but they also feel distinctly Oakland, set in a city that helped lead the Occupy movement and has repeatedly made national news for its fights against gentrification and racism.
"People want to stand up and resist the ways in which we are being oppressed. Oakland is one of the poster children for this," said Shakti Butler, a longtime Oaklander and documentary film-maker. "These films … help people see the situation more clearly and help people find a voice."
Tyrone Stevenson Jr, whose family has been in Oakland for multiple generations, said it was emotional to see real images of his city on the big screen in Sorry to Bother You, including the homeless encampments he passes daily and the block where he lives.
"That film actually showed the true character of Oakland from its best to its worst," said Stevenson, who is also known as Baybe Champ and is the founder of the Scraper Bike Team, a group that has a cameo in the film. "That's my hood … This is what Oakland really looks like."