Good evening, I'm Ben Jacobs, and this is the Guardian's new-look politics minute. In the run-up to the midterm elections, I'll bring you the latest from Washington and beyond every Monday, Wednesday and Friday evening. If you're not already receiving this rundown by email, sign up.
Sign up to the Guardian's politics minute for the latest on the midterms
Cramer on Kavanaugh: 'Even if it's true, does it disqualify him?'
Congressman Kevin Cramer, the Republican nominee for Senate in North Dakota, is a top GOP recruit who is favored to beat incumbent Heidi Heitkamp. However, he questioned if the allegations then known about Brett Kavanaugh would disqualify him. "Even if it's all true, does it disqualify him?" Cramer mused in a Monday interview.
Does this hurt him? It certainly doesn't help the gaffe-prone Cramer, but a lot depends on what happens in the next 48 hours or so. The Kavanaugh situation is not static and almost any political outcome is foreseeable. It does mean that he has left a pretty significant hostage to fortune if things go sour for Kavanaugh during Thursday's hearing.
Bredesen blames 'both parties' for Kavanaugh 'circus'
Phil Bredesen, the former Democratic governor running for Tennessee's open Senate, said in his debate Tuesday night: "What is going now with this Kavanaugh nomination in Washington on the part of both parties just disgusts me."
That seems unusual for a Democrat. It is, but Bredesen is not a normal Democrat, and he is running as a moderate in a state that Trump won by 26% in 2016.
Does this hurt him in his own party? The last Democrat to win a general election for a Senate seat in Tennessee was Al Gore in 1990. Even the hardiest progressives in the Volunteer State will gut this one out, especially considering that Bredesen's opponent, Marsha Blackburn, is a rightwing conservative.
Steyer spending big to help Gillum in Florida
Billionaire Tom Steyer will spend another $5m to help Democratic gubernatorial nominee Andrew Gillum in Florida. This comes after Steyer spent $1.4m in the Democratic primary to back Gillum in an underdog bid against former Congresswoman Gwen Graham.
What impact does this have? It certainly helps Gillum, who has a narrow but consistent lead in polls. It will also trickle down to help Democratic senator Bill Nelson, who is in a tight race . Just under half of Steyer's investment will go to voter turnout efforts which will help not just Gillium but other Democrats up and down the ticket.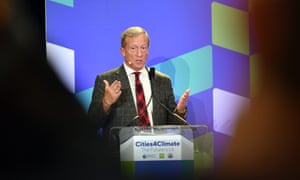 Poll of the day
Two-term Democrat Sherrod Brown has a double digit lead over Republican Jim Renacci in Ohio's Senate race. Although Trump won Ohio by 8% in 2016, Brown is cruising in his re-election bid. A new poll from NBC News has him winning 52%-39%.
Popular Dem incumbent is winning. So? It's a sign of how much Republican hopes for the Senate have fallen in recent months. There are 10 Democratic Senators running for re-election in states won by Donald Trump. However, Brown and three others, Bob Casey in Pennsylvania, Debbie Stabenow in Michigan and Tammy Baldwin of Wisconsin, look increasingly safe. This gives Democrats more hope of winning back the Senate.
Does this have an impact in other races? Yes. The governor's race in the state is a dead heat and there are several competitive House races in the Buckeye State. Brown's coattails could make the difference in a close race
Ad of the day
One of the more surreal ads of the cycle comes from Wisconsin governor Scott Walker, who uses a familiar Republican ****** on his Democratic opponent Tony Evers: he'll raise taxes. What makes the ad stand out is the 1970s children's show style imagery it uses.
Will it work? Walker's campaign started off after Evers won his primary by attacking the Democrat as lax on sexual predators in schools. That didn't dent Evers in the polls.
Is it memorable? Yes, very much so. In a race where Walker has to make voters sour on Evers, the hope is that the ad will linger in Wisconsinites' minds as an example of Evers being too liberal rather than of Walker's advertisements being too experimental.