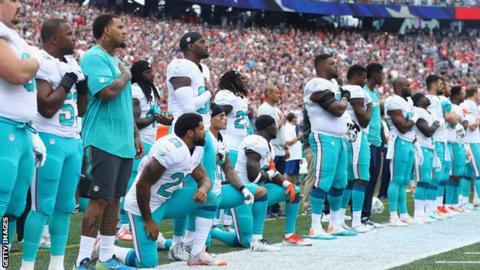 US president Donald Trump has called for NFL players to be banned for a season with no pay if they kneel for the national anthem.
In May, the NFL introduced a new policy with teams fined if players fail to stand during the anthem.
Since 2016, some players have knelt to protest against police treatment of African Americans.
"Isn't it in contract that players must stand at attention, hand on heart?" President Trump wrote on Twitter.
"First time kneeling, out for game. Second time kneeling, out for season/no pay!"
The NFL policy also asked that players who would refuse to stand remain in the locker room while the anthem was played.
Speaking in May, President Trump said the NFL was "doing the right thing".
He has now called upon NFL commissioner Roger Goodell to "make a stand".
The issue surrounding the national anthem returned to headlines on Thursday when it was reported the Miami Dolphins would ban their players for up to four games if they protested on the field.
On Thursday night, the NFL and NFL Players' Association (NFLPA) issued a joint statement saying they were working on a "mutual resolution" and have put the two-month-old policy on hold.