Connected Video and Audio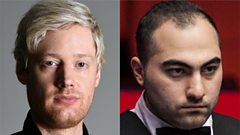 Coming up
Play video Semi-finals: Robertson v Vafaei from BBC Two Wales
Purchased a TV Licence?
You will need one to examine dwell TV on any channel or instrument, and BBC programmes on iPlayer. It's the law.
Uncover more
Summary
Semi-finals (easiest of 11 frames)
LIVE: Stuart Bingham 2-1 Joe O'Connor
19:00 GMT: Neil Robertson v Hossein Vafaei
Expend play icon to examine protection
here.

Getty PhotosCopyright: Getty Photos
here.
Accumulate Inspired region.